October 2022 • 2022-10-23
Why Should You Outsource Bookkeeping And Accounting?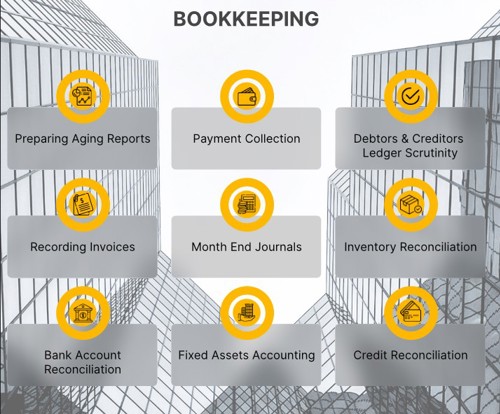 Most businesses can receive help from outsourcing their accounting and bookkeeping. Many small-business owners attempt to keep track of their accounting; however, most owners do not have the time, desire, or expertise to painstakingly keep track of their financial records – especially if their company is growing rapidly. Below, we list some of the many advantages associated with outsourcing your bookkeeping and accounting:
Company leaders are now realizing that outsourcing can help them "deliver competitive advantage by transforming the way" they "operate, and making them more agile, efficient, and effective."
Making good judgements when one has complete data, facts and knowledge is not Leadership – its "Bookkeeping"
1. OUTSOURCING RETOUCH PERFORMANCE
By hiring an outside accounting professional, you have the choice to select someone with a proven history for success. You can hire a professional who is not just an accountant, but one that specializes in what your business needs at any moment in time whether that be assistance with tax issues, mergers, streamlining processes, or improving your internal reporting package.
2. REASONS COMPANIES UTILIZE OUTSOURCING
To improve the Company's Focus
To Obtain Top-Notch Capabilities
To Share Risks
To Free Up Corporate Resources
To Control Operating Cost
Outsourcing to a company for its accounting solutions can be a great way to boost the efficiency of the whole accounting process. It is also a useful way to manage all accounting requirements and compliance so that all of financial papers and documents are prepared right on time.
3. UTOMATION OF CLOUD BOOKKEEPING
Most businesses use accounting automation software to save time. It will save time, but importantly, it reduces risks. Automating accounting is minimizing human errors. Secondly, in automation software, accountants get real-time reports. They assist in catching potential problems and resolving them at an early stage. Thirdly, it will reduce probability of internal fraud. Most of the accounting service providers are highly qualified in the automation tools such as QuickBooks, Sage, Visma, Xero, Microsoft Dynamics, SAP and more.
If your accountants are still using only Excel sheets – you are wasting your time and money.
4. HAT TO KEEP IN MIND WHEN OUTSOURCING ACCOUNTING AND BOOKKEEPING SERVICES
Particular services you need
Cost competitiveness
Quality of work, experience, and expertise
Data security
Agreement flexibility
5. OUTSOURCING HAS ACCESS TO INNOVATION
Outside accounting firms have opportunities to evaluate new software and interact with even more software among their various clients. This helps them figure out which technology work best like accounting tools, software (QuickBooks, Xero, MS dynamics), which technology integrate best together and allows them to make recommendations that will meet your needs. You can receive innovative advice from accountant partner instead of a tech company.
6. STREAMLINE PROCESSES WITH OUTSOURCING
Process improvement is the number one consulting service provided by PKF Antares Professional Corporation, bookkeeping service for small businesses. From experience with many similar companies, a typical workflow, and be able to review your current processes with the goal of making them more efficient and designing them to safeguard against abuse. Going through a process improvement consulting project results in time saved, money saved, and increases employee buy-in and satisfaction.
7. BENEFITS OF OUTSOURCING ACCOUNTING FUNCTIONS
Energy savings
Expert services
Contractual obligation
Industrial accounting needs
Expert Professional (CPA's) Accountant & Bookkeeper
BOOKKEEPING PROCESS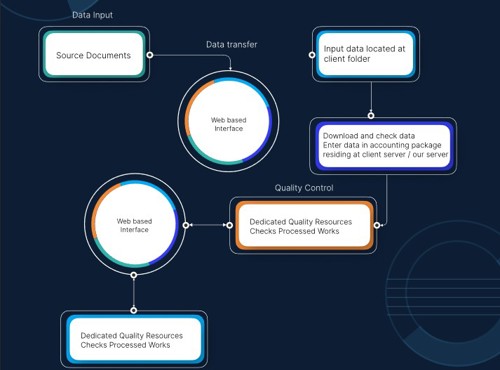 8. BOOKKEEPING TASKS YOUR BUSINESS CAN OUTSOURCE TOMORROW

Bookkeeping
Reporting to authorities and Management
Payroll and processing services
Accounts Payable
Accounts Receivable

Bonus advice:If you hire a big-five accounting firm to perform an audit, you should continue to use the other company for your accounting and bookkeeping functions. Due to independent regulations and standards within the accounting profession, a CPA firm performing an audit cannot also perform the accounting and bookkeeping for the same company.
9. OUTSOURCING LOWERS COSTS
As an added benefit you get to cut your operating costs. This is beneficial to a small business as they can access a CFO level professional at a fraction of the cost. Many small businesses, especially seasonal operations, cannot afford to pay a $150,000+ salary, but engaging in a pay for what you use scheme is workable. Even if you could foot the bill, outsourcing a function saves the company money in the areas of employer payroll taxes, worker's compensation insurance, and benefit packages.
10. REDUCED FRAUD
A recent survey released by the Association of Certified Fraud Examiners study shows that the most common victims of fraud are privately owned small businesses with less than 100 employees. This is primarily because most small businesses don't have access to a controller or CFO who could review KPIs and metrics that show abnormal activity in the transactional and billing data. By outsourcing your accounting, a controller will be a part of your team to look for these fraud signs and implement proper protection controls.
Give Outsourced Accounting a Try!
There are many company departments that can be outsourced whole or in part. IT always tops the list, but HR and procurement are other popular areas able to be outsourced, not to mention accounting.
Of the over 500 companies surveyed by Deloitte, of those that had already outsourced back of house functions, 77% were satisfied with outsourcing their tax work and 81% were satisfied with outsourcing the entire finance function.Right now, we're offering FREE consultations to new callers. For help with this or any other accounting matters, reach out to us at (+1 403-375-9955)for thepersonalized consulting and bookkeeping services.
See more October 2022 items